And finally, the kitchen sink.
If you want to make a really effective, impactful animated video then dive in and go for the hook. We've talked about getting to the point before, this is more about the purpose of the animated video as a hook.
It's tempting to put it all in, there are so many things to say, you've a ton of great features and details that make all the difference, that differentiate and elevate your product, message or service above the others. That's great, but don't put it all in the video, it's a hook – it's sole purpose is to show the juicy worm of your greatness and get them wanting more.
What is a hook?
A hook can be defined as "a thing designed to catch people's attention." Such as "companies are looking for a sales hook." I had a pretty good look around, but couldn't find a hook defined as "a long lists of things designed to catch people's attention." But why should we use a hook?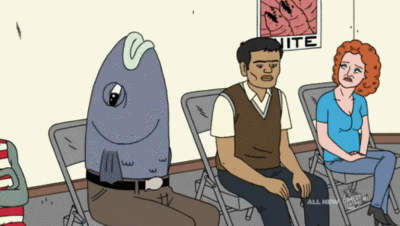 Why a hook?
So in essence keep it short. Why? What reasons are there to use a hook rather than "a long lists of things designed to catch people's attention?"
Trailer not full feature film.
It's such a familiar format, such an established way to see if you want to watch a film or series – that it's easy to overlook the trailer.
It has one job, to hook you into the film, it's one of the most important aspects of the marketing plan for the film, if you get it wrong, you're in trouble. It's a careful mix of clips, hints at narrative, showcasing the talent, appealing to the right audience and selecting the tone of the voice over. All of these, and more, are selected to hook the viewer in, not to give away the plot or show all the best dialogue but hint at these, leaving them wanting more.
The trailer is great to refer back to if you start adding in too much, trailers are on average 2 minutes, films are on average 120 minutes so they aim to get the point across, the hook in, with 1/60th of the time. I'm not saying if you have 60 great points then compress them into one for the hook, but you get the idea.
Quality not quantity
Most of us have a budget to work to and targets to reach so we want to get results, making the message short means you spend more time on less – so the time on concept, design and execution is maximised, whilst time on that long list is minimised.
It has been proven that waffle is a guaranteed way to turn off your audience.
We love animation,
that's why we do it. But we understand it has it's place in the marketing and communication mix, it's not for every project and it's not to be drawn out. There are lots of opinions and reports on how long your sales video should be but the resounding, number one answers is – keep it short. Given a choice between a 30 second video and a three minute video which would you click?
How much do you really have to say?
Here I mean "have" as in something you have to do, save the kitten from the burning roof, work towards world peace or get a coffee in the morning. I don't mean "have" as in "I have a long list of things that I want to say." Of course you have a lot of positives, a broad range of features and benefits and they have a place, just not in the hook animation. Focus on the very key strengths, cover the rest on the website, can you reduce it to five.
Bite Size
The purpose of the hook is to get the viewers attention and send them onto the site or the next video, where they can search out the information in their own time. We've all got tiny attention spans and decreasing memory thanks to our reliance on digital props and technology so don't expect too much from the viewer, they want bite size and the bites are getting smaller.
Finally
Leave out the kitchen sink, leave out a lot of the detail, go for the headlines. The hook.
So to recap
1. Trailer not feature, choose the best bits
2. Quality not quantity, think tasty morsel rather than more and tasteless
3. Short videos get watched more
4. Say only what you have to
5. Small bites for a smaller attention span
Klopt! was founded by Sebastian Read, who's spent the last two decades learning everything there is to know about animation, in all its many forms. Set up in 2012 to respond to the burgeoning video-marketing and internal-comms sectors, Klopt! produces concise, compelling animation and motion graphics for big brands, small businesses and innovative start-ups.